La Grande Tente Garden Terrace
Please join us on Sunday, July 16th at 4:00pm sharp for our 10th annual action packed Bastille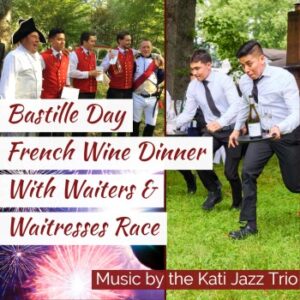 celebratory soirée at L'Auberge Chez François for an afternoon and evening that promises to be packed with fun, merriment, music, and of course fine wine and delectable cuisine.
In honor of La Fête Nationale, dine on our outdoor covered terrace overlooking our gardens and grounds while enjoying a six-course menu de degustation created by Chef Jacques, paired with the fine French wines from Fredrick Wildman. The delectable dinner features "just picked" produce directly from our on-site gardens.
Let's kick off our celebration by cheering on the L'Auberge Chez François' Wait Staff competing in our very own exciting 10th Annual Bastille Day Waiters & Waitress Race (inspired by the famous footrace in Paris) around our gardens and grounds!
Come early (race begins promptly at 4pm) and enjoy a glass of Jean Charles Boisset #21 Sparkling Brut while cheering on your favorite server, as they race with trays filled with glasses and champagne bottles in a pre-selected route for the coveted Bastille Day Trophy and prizes, and, of course, serious bragging rights.
Special guest Napoléon "Neil Ruane," Export Manager for Boisset Collection Wines (in full costume as Napoleon today), will kick off the race with the ancient art of sabering, along with Chef Jacques, Napoleon's side kick, but of course. A brief awards ceremony will follow.
In honor of La Fête, we continue the lively soirée, and head to our lovely tented garden terrace to sip and toast our homeland's independence and enjoy our Six-Course Bastille Day Menu de Degustation created by Chef Jacques that will feature produce harvested directly from our on-site gardens.
Joining us this afternoon will be the talented French singer Kati Sol and Trio. Kati and Trio with be performing French lively melodies this evening, where music will fill the festive air. Kati will recreate a vibrant and spirited genre that captures the essence of our French Holiday, Bastille Day.
"Napoleon" will introduce and present the menu's paired Boisset Family French wines, and will lead in lively songs singing together, the French National Anthem. Celebrate the Francophile in you with us in this action packed "not to be missed" Bastille Day Soirée! Reserve early, as we will sell out this ever-popular celebration!
"Vive la France" and here's to an afternoon of delicious food and good French fun on Bastille Day! Bon Appétit!
Bastille Day Waiters Race Around the Gardens
[4:00pm Sharp]
Crement d'Alsace
BASTILLE DAY MENU DEGUSTATION
Classic French Canapés
JCB Crémant de Bourgogne No. 21
Our Famous Housemade Garlic Bread & "Bibelskais," Assorted Bread Basket, Glenview Farms Butter
Chef Jacques' Garden Gazpacho with Poached Maine Lobster
Fortant Grenache Rosé Pays d'Oc 2020
Maine Halibut, Julienne Garden Vegetables, Dill Beurre Blanc Sauce
J Moreau & Fils Chablis 2021
A Bastille Day Celebration Sorbet
Creekstone Farms Certified Angus Beef Filet Mignon, Sauce Choron, Spicy Onion Rings, Grilled Garden Vegetable Medley
Bonpas Côtes du Rhône Reserve 2020
Trois Couleurs Napoléon with Local Raspberries and Blueberries
JCB Crémant de Bourgogne No. 69
Julius Meinl Coffee and a selection of Haney's Fine Teas
Event Price: $180.00, excluding tax & gratuity – For a total of $220.00 per person.
Tickets non-refundable. We are happy to accommodate guests' dietary concerns, so all may join the festivities. Please email chezlauberge@aol.com or call 703-759-3800 with special requests
Patrons will have an opportunity to purchase these wines at a very special price this evening. Bastille Day will take place outdoors, and under our 40 x 55 Garden Terrace Tent, with fans and café lights.